PRO IT Service Blog
There are so many nice features made available by Six Apart on the movable type v6.2 release that it will take me quite some time to describe.
While you could find a short description and the release notes on this page:
http://www.movabletypedemo.org/2015/10/movable-type-v62-is-here-wow.html
Let me try to go over some of the most interesting assets-related newly introduced features.
The features that I would like to describe are:
How to Edit an Image;
How to Define a Default Upload Folder;
Drag-and-Dropping Assets.
To read my guide on the above mentioned 3 features, please go to this article that I just published on Movable Type Demo:
"Some of the newly introduced Movable Type v6.2 features"
Posted by Mihai Bocsaru on October 12, 2015
Permalink | Comments (0)
Today I had to use a plugin for regenerating movable type basenames, but as soon as I uploaded it to the server, I've got this error:
Got an error: Error reading /path-here/cgi-bin/mt/plugins/EntrySetBasename/config.yaml: Syck parser (line 21, column 18): syntax error
At that point I had two alternatives: either debug the plugin and fix the problem, or switch from YAML::Sick to YAML::Tiny.
Since I've had so many items on my schedule, I preferred to go ahead with the quicker method and thus I've added the following configuration directive to my 'mt-config.cgi' file:
YAMLModule YAML::Tiny
Problem solved!
Posted by Mihai Bocsaru on January 09, 2015
Permalink | Comments (0)
I respect all religions, those that believe in them or the atheists, but I cannot respect people that are out of mind and that overreact in the way the two brothers did yesterday in Paris.
I cannot respect people that kill other people, no matter what justification they might invoke.
Are the real believers in Islam so sensitive to not accept caricature or parody? Are they potential killers?
I don't think they are and I don't think Islam is a cruel religion, but rather that people out of mind are seizing this religion to do whatever they want and to whoever they want.
Peace!
Posted by Mihai Bocsaru on January 09, 2015
Permalink | Comments (1)
Recently a large amount of users got an email from Google Webmaster Tools with this subject: "Googlebot can't access your site".
Inside that email there are some other details, such as the number of errors that Google encountered while attempting to connect to your site, as well as your site's overall connection failure rate.
If you judge by that email message and the failure rate ratio, you could think that your business is ruined given that people are saying a failure rate above 50% and sometimes even around 75%.
The good news is that this appears to have been due to a bug in the Google Webmaster Services.
There is a forum thread going for it on the Google product forums at:
https://productforums.google.com/forum/#!topic/webmasters/mY75bBb3c3c/discussion
(look on page 1)
According to Matt Cutts at Google, these should be ignored for now.
For safety reasons you may like to ask your hosting support to check what was wrong with the server, if there was something wrong at all.
They could check the server access logs and see if there were any "unusual" errors for the Google bot traffic to the site.
Hope it helps!
Kind Regards,
Mihai Bocsaru
Posted by Mihai Bocsaru on April 27, 2013
Permalink | Comments (0)
Today I'm not going to talk about web development, blog consulting or about movable type consulting, or just about how good I am at coding websites.
Today I want to share with you my feelings. I'm still shocked about what happened at the Boston Marathon these past days.
This horrible event reminds me about what happened on September the 11th, 2001. At that time I was at my office in Rome, Italy where I had an internship. I recall my mobile phone receiving a dozen of SMS messages within just 3-4 seconds. I've realized that something is wrong and I've started to read them.
All those messages were from news agencies mentioning the 911 first attack on the Twin Towers.
My colleagues and I took a TV we've had around and started to watch news reports about what happened. The news was so fresh that one couldn't find anything online yet.
We couldn't believe our eyes what was going on. The first plane was crashed on the first Twin Tower. You know what happened after that. At that point we've realized that we aren't safe any longer no matter where we are.
This attack from Boston is again very touching to me. I've got a series of questions that I'm trying to answer myself. What is behind this terrible event? Why did those two guys do something like that? Do they have accomplices? Were they executing an order?
They've been adopted by the US and helped live a better life than the one they've had in the Russian Federation, so I see no logical reason for doing something like what they did.
A strange coincidence is that the younger suspect, Dzhokhar became a US citizen on September the 11th, 2012, when the US was celebrating 11 years from the most horrible terrorist attack in its history.
After all it did for these guys, does the US deserve such gratitude? Definitely not!
I hope to see this young man and whoever else is involved brought to justice.
God bless America!
Posted by Mihai Bocsaru on April 20, 2013
Permalink | Comments (0)
There are so many things that happened since I found some time to post something here.
As a daily web developer and movable type consultant, I'm spending in average 8 to 12 hours a day (sometimes even more) slicing interface designs, converting them from graphical format into web page format, movable type integrations, movable type upgrades, movable type plugin development and more, even wordpress development or migrations in between the two publishing platforms.
Apart from that, I'm spending time on studying law, on keeping my girlfriend entertained and on getting some fresh air.
Tomorrow we're celebrating our 3rd anniversary together and on the 20th of august we're going to marry. Choosing to make career in this field and being committed to offer an excellent service, I've felt more comfortable staying away from very demanding activities like preparing a wedding.
However, time has come to pass through that experience with the right one. She is about the same age with me, and indeed a special person.
Nevertheless this summer is going to be busier than any other ones so far, I'm promising to myself to keep the portfolio and this blog updated from time to time.
Before closing let me thank my customers for their support on offering me so many opportunities for work in what I like the most, doing professional web sites for their businesses.
Last, but not least, I would like to thank my girlfriend for the fact that she accepted so many times the long hours I've spent on delivering some large projects in time and without sacrificing on quality.
Quality is what distinguishes my business from my competitors and what helps me find those business opportunities which allow me to keep up with all the expenses.
Speaking of expenses, the biggest one is a mortgage for which a local bank is asking a huge interest rate for a loan in EURos (I might talk about it with another occasion).
Yours sincerely,
Mihai Bocsaru
Posted by Mihai Bocsaru on July 24, 2011
Permalink | Comments (10)
Unfortunately we've felt a bit this financial crisis, as most of our European customers were from the U.K. and Great Britain was strongly hit during October, November and December 2008.
We had a good amount of work planned for a couple of large British companies, but we've lost it due to these contractors' financial problems. Adding to this detail that we didn't accept some projects to make sure we have enough room for these British contractors, you can get the picture.
Anyway, rather than complaining or taking an unplanned holiday, I've decided to leverage the free time between some small projects to work on improving a bit our company Web site.
I would like to refer here to what I consider the most important update, which is in fact a new section called Testimonials.
As you may already be aware, PRO IT Service S.R.L. has been founded by myself way back in 2002 and since then we've server a couple of hundred of customers. Nevertheless this performance, we didn't have enough time to devote to mentioning these jobs under our portfolio, nor to consider adding a Testimonials section.
Given the new circumstances, in November I've planned this testimonials section and I've started by contacting about 20 customers and asking them to provide us a testimonial. Some were very quick, some less and some are still to prepare a testimonial for us.
On January the 19th, 2009 after having collected about testimonials, I've decided it is the time to publish them online.
This evening I've got a call from a contact telling me that he was impressed with what we found out about our company, but that he only seen a few testimonials. I've explained him that this section is just launched for about 3 weeks now. He though the section is as old as the company :)
Anyway, I'm going to make clear on our Web site that this section is brand new.
https://www.pro-it-service.com/en/testimonials.html
Posted by Mihai Bocsaru on February 05, 2009
Permalink | Comments (0)
I would like to thank all our customers for ending 2008 with another important business growth.
Due to the amount of work and to the intention of expanding our team, during 2008 we've contracted a mortgage and bought a larger flat where to operate this new media business.
Nevertheless the crisis which affected us a bit, as most of our customers are from the United States and from the United Kingdom, we closed the year with satisfactory financial results, but most of all, proud of the projects we've worked on.
The plans we have for 2009 are to increase our team and to bring this business to the next stage by engaging a private investor and by expanding in one hand our customers base and on the other the number of services offered by hiring more people.
Happy New Year! to all and hope this year will put an end to the financial crisis affecting the global market.
Posted by Mihai Bocsaru on January 09, 2009
Permalink | Comments (0)
Six Apart announced a new Movable Type version which, according to the press release, it is a mandatory security release recommended for all users and fixes a good number of bugs from version 4.21.
On a side note, you should know that there was no version 4.22, so don't worry that after v4.21 the movable type crew launched v4.23 (it's a long story that is not made public yet).
Looking at the change log, I've noticed that I've dealt with some of the bugs fixed in this new release.
I should express my gratefulness to Six Apart for putting together this improved movable type version.
Are you having your own Movable Type installation? Are you interested for an upgrade? I'm available to upgrade your Movable Type installation to v4.23. Get in touch via the contact page form...
You may like to check the movable type v4.23 change log below.
Read more on "Movable Type upgraded to version 4.23. Consultant available!"
Posted by Mihai Bocsaru on December 04, 2008
Permalink | Comments (0)
I've had a customer complaining today that he has some text formatting issues when copying and pasting content that he wrote with Ms Word into his Movable Type v4.21 driven Web site.
The client was wondering if he is doing something wrong, as some other posts already published on his Web site were looking impeccable.
My dears, the problem is well known with a very large range of blogging tools and content management systems (CMS).
The work around this trouble is to Save the document As "Web Page, Filtered (*.htm, *.html)".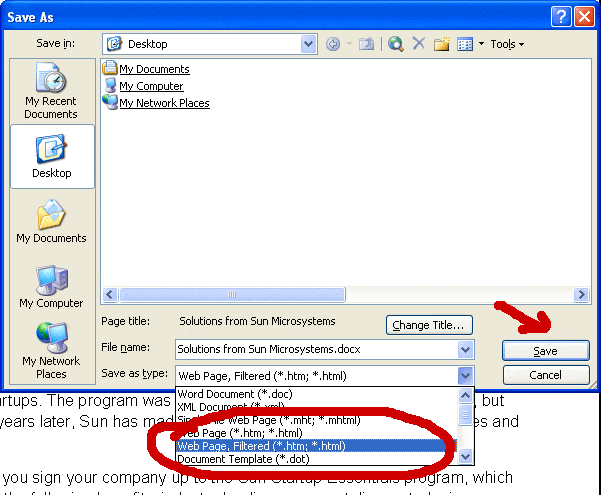 After choosing the new format, Ms Word will alert you that if you go ahead with the 'Save As' command you've just ordered will remove 'Office-specific' tags. Since this is actually the goal with going through this 'Save As' procedure, you should click 'Yes' on that alert window.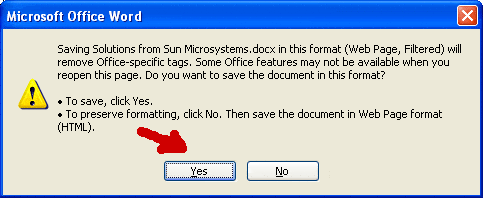 At this stage you can safely copy and paste content from this new format document into your publishing platform, Movable Type or not.
This will solve your text formatting problem after trying to copy and paste content from a document wrote in Ms Word.
Posted by Mihai Bocsaru on October 17, 2008
Permalink | Comments (0)