Description:
NDA Healthcare Community is a movable type community implementation for the Healthcare National Event Series.

Project Details:
I've been contacted for movable type development for the NDA Healthcare Website. Over time we did various jobs, but the latest and the juiciest is the community section for the events' speakers.

Technical Specifications:
A staff member from the NDA (Non-disclosure agreement) company decided to contact me regarding some movable type development for the NDA Healthcare Website. Worth mentioning is that when I've started to work on this assignment there was a basic movable type website in place, without too many features, and with a coding approach that I didn't like so much.
The first assignment we've had was to code a completely different home page. The layout was meant to be different and some speakers' details listed etc. As the layout was done in an inappropriate way I've had some issues so I've decided to fix some of the layout for cross platform compatibility.
SEO-Savvy Splash Page
Apart from all kind of revisions here and there, we've done a nice splash page. While initially the NDA company staff was thinking to build up that page as a block image page, I've explained here the advantage of search engine optimization and we've developed the page according to the search engine optimization principles.
The speakers listed on the splash page are not manually inserted, but professionally integrated from within movable type, each speaker as a stand-alone entity. Changing a speaker details, including the picture is a breeze and each one of them has his/hers own profile page.
Movable Type Community Implementation
There are many small things I did for the NDA Healthcare project, but the one I'm most proud of so far is the community section.
When we've decided to develop the community section, what we had in mind was to build up a community site which to allow users to register and interact within themselves, as well as contribute to the community with articles and comments.
Movable Type Community Registration & Sign In
Visitors could register to the Web site and get a profile page.
During the registration process, a visitor has to provide a few details, such as the full name, company/organization, location and Website URL (apart from the login information and email address). Some of this data would be listed on the community user profile page.
Obviously, registered users could always edit their profiles as well as associate a profile photo.
We've also build up a sidebar widget called "Members" which displays the number of members registered on the community together with each user profile photo thumbnail.
Worth mentioning is also the fact that we've co-branded the movable type system pages such as Users Registration, Profile Page, Edit Profile Page, Sign In, as well as Password Recovery and other user interaction pages so that they are now nicely integrated within the look and feel of our community site.
Users are able to login also using their Facebook account via the Facebook Connect plugin.
Movable Type Community Profile
As outlined above, some of the data provided during the registration process is meant to be displayed on the community user profile page.
Apart from that profile information, a user profile page lists the user recent activity, namely the latest articles and comments published by that user.
Movable Type Community Social Networking
One of the most exciting features we've implemented is that we allow a logged in user to be able to follow another user. Basically each user could follow other people or be followed by other people.
In order to follow somebody, a logged in user has to click on that other user profile photo thumb which gets him/her to that other user profile page. From that other user profile page, the logged in user could follow that user (if not done already), or unfollow him/her (if he/is is already following that person).
We didn't limit to allowing people to follow or unfollow, but to facilitate the users interaction we've decided that on each community user profile page we would display two widgets on the sidebar as well as at the bottom of the profile which to list the number of following and followed users, together with a tiny profile photo for each user linked to that following/followed user profile page.
Movable Type Community User Content Contribution
One of the most important goals that we've had in mind was to allow logged in users to be able to contribute to the community site by submitting articles and/or publishing comments on community articles.
For submitting an article, one has first to login to the site and then click a "Post to the Community" button.
When not being logged in that "Post to the Community" button reads "Sign In to Post".
The "Post an Article to the Community" page contains also a WYSIWYG tool for users to easily format the article text before being sent and published on the community site.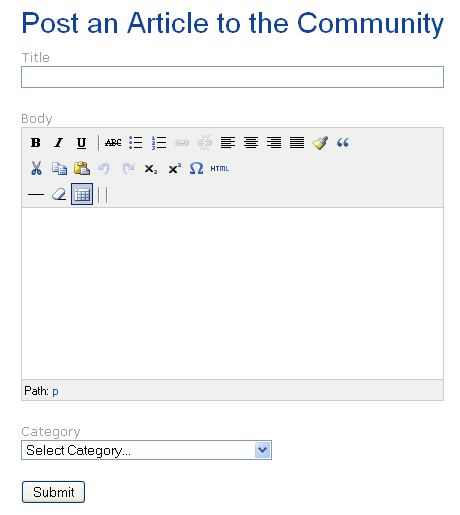 The NDA Healthcare Staff writes community articles using an user called "NDA" (not allowed to provide the real name on my portfolio) which is linked from all the community pages for easy navigation.
Each community article contains a reference of the person which submitted that article to the community, so people could easily go and check that person profile on the NDA Healthcare Community.
Movable Type Community Members Display
I've mentioned earlier that on the sidebar we're displaying a widget called "Members" which lists the total number of community members and displayed their profile photos thumbnails linked to their corresponding profile pages.
That sidebar widget is limited to the latest registered 36 members, but it contains a link called "view all" which leads to a page called everyone where apart from the members recent activity we're also displaying all the members profile photos in large size and linked to their profile pages.
Movable Type Bugs
As a daily movable type consultant I have sometimes the occasion to discover bugs.
The fact that I'm using this platform for all kind of features and scopes allows me to see which features means to be working in fact are not working properly.
This was the case on this project with the followed function. I had a testing user that I've used to follow other users or be followed by the NDA user. Once my testing was over, I've deleted that testing user, but surprisingly the "followers" counting didn't decrease with 1 as it was supposed to.
So I've immediately reported the bug and we're looking for a resolution. If that resolution wouldn't be provided in a short time frame I would consider debugging it myself.
Movable Type Hosting
I've noticed that NDA Healthcare was over paying for their hosting server and nevertheless that fact, the server performances weren't so satisfactory.
After proposing NDA organization to host their resources together they've been very happy and decided to do it immediately. This decision didn't only save them quite a lot of money, but it made their movable type project work much faster.
Movable Type Upgrade
We've upgraded the movable type publishing platform on a few occasions in an effort to keep it updated with the latest features and bug fixes.

Contracting:
Contracting from NDA, San Francisco, California, U.S.A.

Period:
Ongoing since November 2009