As a professional blogger you should be having an account at twitter.com.
As they describe themselves:
Twitter is a free service that lets you keep in touch with people through the exchange of quick, frequent answers to one simple question: What are you doing?
So, as a professional blogger you may be using twitter to let your audience know what you are doing every day, hour by hour.
But, have you ever imagined that you could also display a section on your Web site, like a widget, where to display a summary of your twitter account?
Are you ready to display your twitter activity on your Web site? Get in touch using the form below or our contact page and we will be glad to work with you on this feature.
This feature could be integrated on absolutely any Web site!

Sample:
We've implemented this feature for a customer using Movable Type as his Web site content management system (CMS). His name is Peter Baron and he is managing AdmissionsQuest.
Keep in mind that we could implement this facility on any type of Web site (static, blog, online community etc.).
If you are having an account with twitter like say:
http://twitter.com/AdmissionsQuest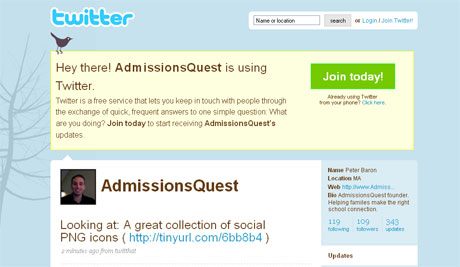 We could display it on your Web site.
In our sample, we are displaying a summary of the twitter profile mentioned above on the right side column, under a widget called 'Twitter'.