Urban Apertura
Description:
Urban Apertura is a photo blog where the photographer Chris Hero shares with art work with his visitors.

Project Details:
Chris Hero, a photographer from San Francisco contacted me for building up a photo blog for him. Over time we've added all sort of extra facilities to the project to maximize its potential.

Technical Specifications:
Chris wrote to me asking for setting up a photo blog for him which to respect certain specifications.
He got movable type installed on his GoDaddy server, but didn't have the expertise to build up what he had in mind and so we was looking for a movable type developer and found me.
At that time this was my first photo blog and I've been eager to get the ball rolling.
Chris had specific requests about the interface, so I've started from a movable type default theme and tweaked it to match the client photo blog layout preferences.
Recommend To A Friend
Chris wanted people to be able to recommend a photo to a friend, so we've implemented together a technique which allows him to let people recommend photos to their friends.
After filling out the form, one would get a confirmation message that his recommendation has been sent and that he/she will be redirected to the photo page he/she recommended within 5 seconds.
On the same time, that person friend would get a nicely formatted HTML message which the photo name, the photo itself, the URL of the photo page, the description associated to it as well as the friend custom note, if provided.
The site name and photo title is featured both on the email subject as well as the message body.
Photos Carousel
I've shown a Chris a carousel from another project and he liked it so much that he asked me to implement something similar on his photo blog, but obviously with a different look and feel to march this Website characteristics.

Google Sitemap
We've implemented an XML Sitemap compatible with Google, Yahoo and MSN and I've personally submitted it to these 3 major search engines so that they will crawl faster any new content from the site, as well as provide us some additional details about our Website pages performances (possible errors, page views, keywords etc.).
Comments
Visitors could comment on photos anonymously (without having to sign in), as well as reply to other people comments.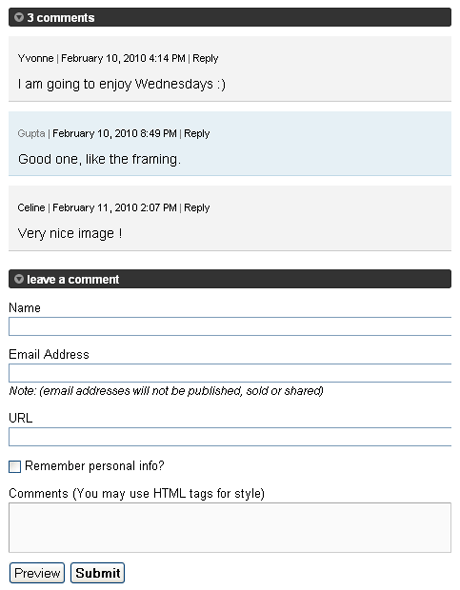 Navigation
Visitors could navigate to previous photos from each and every photo page. On the home page which works just as the latest photo page, one could click to view the previous photo.
From that page, one could view the previous or the next photo.
Archiving
Chris wanted to have each photo associated both to a photographer (for now himself, but may get other people on board) and to a tag.
On the main archives page we are displaying the photo pages sorted by tags, month and photographers.
Under each photographer, one could also see the photographer URL linked to his/hers Website.
http://www.urbanapertura.com/archives.html
Subscription
People could subscribe to get photos updates either by email or by syndicating the RSS Feed.
http://www.urbanapertura.com/subscribe.html

Contracting:
Contracting from Chris Hero, San Francisco, California, U.S.A.

Period:
February 2009