Description:
Chris Price from www.shinymedia.com after some previous successful assignments wanted us to transfer the Shiny Media Company Web site from TypePad to Movable Type.

Project Details:
We've done some very nice work for Shiny Media in the past, especially on optimizing various parameters on their network of blogs. Based on this collaboration, Chris Price, the Shiny Media Co-Founder and Managing Director came to us asking for a quote on switching the company Web site publishing platform.

Technical Specifications:
In this page I will refer only to the Shiny Media company Web site switch from TypePad to Movable Type, nevertheless we've done some other excellent work together prior and after this job.
Switching from TypePad to Movable Type
This switch took place at the beginning of March 2008 and involved moving across 127 TypePad posts, 366 comments and about 50 images.
While the above wasn't that much complex, the juicy work was replicating the TypePad templates on the Shiny Media's movable type platform and most importantly, maintain the Web pages urls pattern as well as porting the 'tags'.
As TypePad didn't allow exporting the individual entries exact URLs as well as the tags, we've had to code a facility and integrate it within TypePad in order to be able to complete these important technical aspects.
We've been stumped to realize that some other consultants that have been working with Shiny Media before our assignment moved some Shiny Media Web site projects from TypePad to Movable Type without porting these important technical aspects.
The problem that these other unprofessional consultants is that those Shiny Media Web sites obtained new individual articles Web pages pattern on the movable type platform, once switched, and so the attempts from search engines or referring Web sites to reach the Web site individual articles pages displayed a missing page standard error 404 message.
It was really incredible that it happened! Doing some research I've noticed that unfortunately this is a common issue that most people moving TypePad to Movable Type are not considering.
Shiny Media and anybody else wanting to engage us to switch their TypePad project from this platform to Movable Type won't ever experience should technical issues which could end up in severe traffic loss and search engines penalization.
Shiny Media Web Site Project Screenshots
Check out below some screen captures took from the Shiny Media Web site project.
You're very welcome to click the thumbs below or to go to www.shinymedia.com and see these pages at the 100% screen size ratio.

Shiny Media.com Main Page

Shiny Media.com Individual Article Web page

Shiny Media.com Chris Price Profile Web page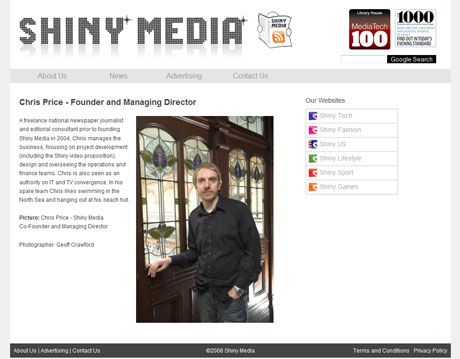 Technologies used:
TypePad, Movable Type.

Contracting:
Contracting from Shiny Media Ltd, London, United Kingdom

Period:
March 2008