Our Forum Layout Customization service takes care of the visual integration of your phpBB forum driven pages within your overall Web site look and feel.
Why customize the forum pages layout?
phpBB and other forum packages come with a default interface as standard.
The problem arises when you wish to manage visitors who reach your forum pages from outside references such as search engines and other Web sites.
These visitors may not recognize what Web site they are browsing since your forum pages are based on the default look and feel.
Their only chance to be impressed by your Web site visual identity is to manually change the address on their browser address bar from:
http://www.yourwebsite.com/forum/
into:
http://www.yourwebsite.com/
As you could easily imagine, very few visitors will do this.
Hence the need for the Forum Layout Customization service which basically allows you to co-brand your entire forum driven pages to smoothly integrate within your overall Web site look and feel.
What are the benefits?
Your major benefits are:
Improved web site sections layout consistency;
Visitors immediately realize that it is your Web site they are browsing;
It becomes much easier for your audience to recognize your forum pages when they get back to your Web site.
PRO IT Service has two important techniques for customizing your forum layout:
1) Header and Footer
Through this service we can integrate only your header and footer from the overall Web site interface.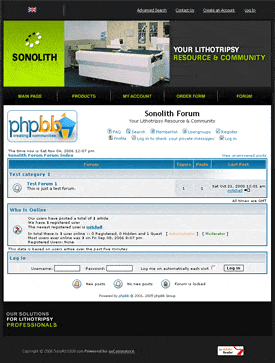 * click on the image to enlarge

This is a phpBB Forum Layout Header and Footer Customization Sample from Sonolith3000.com
Budget: 50 USD
2) Complete Layout
Apart from integrating your forum header and footer, this service allows the customization of your forum fonts, colors and section backgrounds.
You may also want to include your left and right side columns( if you have any), or to setup a background image to be always visible as forum background.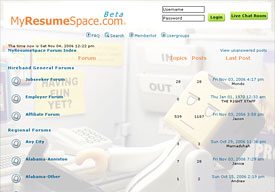 * click on the image to enlarge

This is a phpBB Forum Complete Layout Customization Sample from MyResumeSpace.com
Budget: 100 USD
Check out our other phpBB Forum Consultancy Services below:
phpBB Layout Customization