A nice technique that bloggers use to entertain their audience on commenting is to display a widget called 'Recent Comments' somewhere on the sidebar.
This feature could be set to display say the most recent 10 comments, but to display only certain comments details such as for instance:
Comment Author
Comment Date
Direct Link to the Comment URL
Commented Article Title
Comment Summary (optional, for instance display the first 20 words of the comment itself)
The whole idea about this feature is that your visitors could get an idea about your most recent comments and may feel like to enter the conversation and post their own comments or reply to the comments already expressed by other people.
It's a technique which could help you build up a community around your Web site in the sense that it engages people to express their opinions on your articles, as well as on the other comments you get.
Optionally, we could be offering you two extras for this feature:
Recent Comments RSS Feed
All Comments Index Web Page
The recent comments RSS feed is basically an RSS feed containing specific details about your most recent say 10 comments, pretty similar to the way we display it on the widget, but in an RSS format that your visitors could subscribe to using their preferred RSS tool.
The all comments index Web page is a page displaying all the comments made on your Web site, without limiting the number to the most recent N entries. We could display the comments summary from this page following the same architecture from the widget, or in a differently (say display the whole comment content or not display something etc.).
Recent Comments Samples
1. Index page displaying all comments, most recent ones on top

2. Recent Comments Widget displaying only the name of the commenter and the title of the article on which that comment has been posted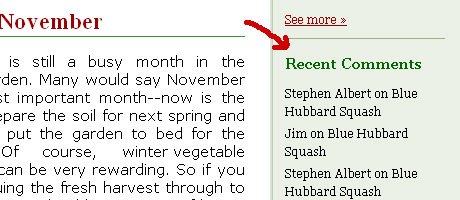 3. Recent Comments Widget displaying only the comment first few words and the title of the article on which the comment has been posted