Home ›› Internet Services ›› PSD2HTML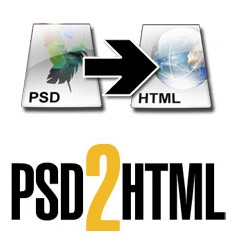 Most representative projects:
PRO IT Service Works Portfolio
Have you designed your Web site layout in Photo Shop and you would like to have somebody code it for you in Web site format? Look no further!
We're hand coding Web sites since 1997 and so we have over 22 years experience in this business. Things changed over the years.
At the moment we're hand coding web site templates using XHTML v1.0 Transitional in combination with CSS v3 (or v2).

Send us your design (in photo shop format or other) and we will hand code it for you as soon as possible in xhtml/css table less format.
Before going ahead with more technical details, I would like to let you know that we are usually hand coding Web site templates from the following design formats:
PSD2HTML - Adobe Photo Shop (.psd)
PNG2HTML - Adobe FireWorks (.png)
AI2HTML - Adobe Illustrator (.ai)
TIF2HTML - Tagged Image File (.tif or .tiff)
The work we will deliver to you will be:

Cross Platform Compatible
Since we have experience with the most popular browsers weaknesses, we will carefully code your project so that your Web site will look the same no matter what browser your Web site visitors will be using.

Search Engine Optimized
You are going to use this project on the web and so it is important to have your Web site compliant with what search engines are looking for in order to rank better a Web site.
Based on our experience, we will be coding your Web site layout following the search engine optimization guidelines.

Clean
As we're coding your Web site by hand, the source code will be so clean hat you could even follow it yourself. We aren't using web design tools that place a lot of useless stuff (garbage), but use our knowledge and place each and every coding line there with care.
This will assure in one hand that your code is as short as possible, and on the other than it is written in such a way that any web developer will be able to operate with it easily.

W3C Compliant
Nevertheless we're hand coding your project, it will be validated against the W3C (World Wide Web Consortium) programming languages specifications. Before delivering the project to you we are going to double-check this and make sure the coding is 100% compliant with these quality standards.

Send your PSD file today and you will get a professionally coded Web site layout.
Live Support


Movable Type Extra Features
Check out the bunch of Movable Type Extra Features we've carefully prepared for your project.

Search Engine Optimization (SEO) Related

Community

General

Authority

Monetization Programs

Movable Type Consultancy Services
What about these other Movable Type Consultancy Services?
Social Bookmarking Services Integration

Translation

Cost Evaluation
---
Note:


- The field has to be filled out