The 2008 US Elections are getting closer and while preparing the road for another Political Blog, in fact entire publishing system, I just felt like mentioning a nice project I've built up and launched recently.
NewsAndPolicy.com is an Influential Breaking Story Portal and Weblog focusing on Breaking News, Video News, Opinion and Analysis, Terror Watch, Politics, Media, Business and more.
Developed for Zimakor Communications Company LLC, a publishing company from California, USA, the Web site is made of a blog, news section and tv newsroom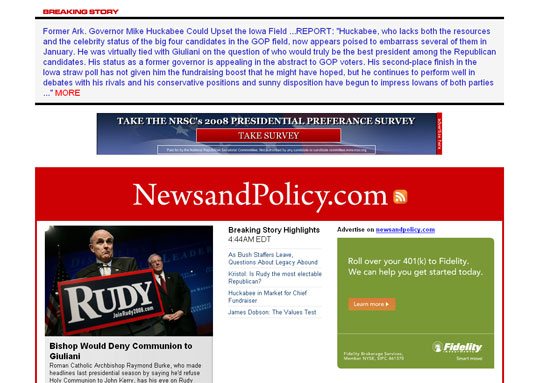 The client came with various design ideas and a reference design, our role being to build the project up from ground zero, starting with coding the Web site layout in XHTML/CSS tableless format, integrating it within Movable Type and then building up a broad range of extra facilities such as:
SEO Facility;
BlogRoll Facility;
Bold Digg and Stumble Upon bookmarking facilities;
Related Articles;
and more.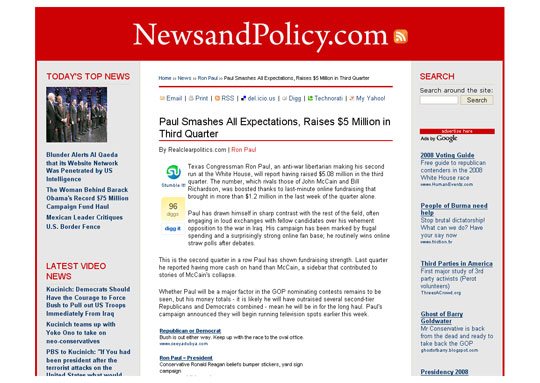 What is also nice about this project is that the client has full control over the Web site without having to bother about Movable Type or any programming. Featuring an article from any of the three sections (blog, news and tv newsroom) to be listed as a breaking story, pushing articles to the home page or to the today's top news or adding/customizing categories are all very easily doable.
We've also shipped this publishing platform with a small manual describing in detail how each section works and what are the best practices for assuring excellent publishing standards.
The site was launched on July the 20th, 2007 and in less than 3 months it already got over 300 comments, 50k weekly visitors and 22.700 mentions on Google, some of these mentions from reputable world newspapers.
http://www.newsandpolicy.com/
Posted by Mihai Bocsaru on October 10, 2007
Permalink | Comments (0)